DepositFix has made a name for itself when it comes to integrating Stripe and HubSpot with easy to customize payment pages and a sync from Stripe to HubSpot.
But is DepositFix the right solution for your billing model?
Let's dive into what DepositFix can do and how it compares to Zaybra.
What is DepositFix?
Deposit fix is a payment and subscription management software that allows users to easily integrate Stripe and PayPal with HubSpot. It has a primary focuses of enabling users to gather payments through customized HubSpot Form.
DepositFix also has some subscription and payment management options directly within HubSpot Contact Records giving users to the ability to create subscriptions and payments. However, the options are rather limited.
Deposit fix also comes with some out of the box workflows that allow you to automate some basic tasks like creating a payment or canceling a subscription.
Feature Comparisons:
The Sync
DepositFix allows you to connect both a Stripe account and PayPal account to HubSpot while Zaybra focuses solely on a Stripe and HubSpot connection (you can read more on why Zaybra doesn't connect with PayPal here).
While both DepositFix and Zaybra sync Stripe data to HubSpot, the two syncs look very different.
Syncs contacts based on email (creates new contact if email is not found)
Contact, subscription, and payment information lives in the Contact Properties in HubSpot.
Stripe Timeline events sync to HubSpot
No Subscription objects or transaction objects in HubSpot

Syncs contacts based on email (creates new contact if email is not found)
Syncs Stripe Customer information to HubSpot Contact properties
Stripe Timeline events sync to HubSpot
Creates Stripe Subscriptions as Custom Object or Deals
Creates a Transaction Custom Object for all Transactions
Creates a subsequent subscription object to record Subscription Upgrades and Downgrades.
One of the biggest differences between the DepositFix and Zaybra sync is the fact that DepositFix does not create any subscription or transaction objects. Instead DepositFix creates a Contact Property Group that stores information about the most recent payment. Meaning if a customer has multiple payments or subscriptions there is no good way to view, report on, and use that data in workflows.
Since Zaybra does create an object for each Subscription and Transaction, you can create granular reports, workflows, and quickly view a comprehensive history of the customers payments and subscriptions.
Not to mention Zaybra automatically associates the subscription and transaction objects to the relevant HubSpot contact and that contact's primary company. Meaning you can create MRR reports on the company level.
Creating and managing Subscriptions and Payments within HubSpot
Both DepositFix and Zaybra allow users to manage subscriptions within the right sidebar of a HubSpot Contacts record. Meaning you don't have to invite every sales rep, customer service rep, and admin to your Stripe account.
Let's look at how the subscription management options in HubSpot differ between the two:
Creating Subscriptions:

Create a subscription with one subscription product

Managing Subscriptions:

Creating Subscriptions:

Create a subscription with multiple subscription objects
Adjust quantities
Add coupons and discounts
Choose Payment Method
Add a new payment method
Additional Option to create a Payment Link or Stripe Hosted Invoice that you can send to a customer.

Managing Subscriptions:

Cancel Subscriptions
Add/remove products from the subscription
Add/remove coupons and discounts from the subscription
Adjust product quantity
Choose proration behavior
Now let's look at the Payment Management options in HubSpot differ between the two:
Creating Payments:

Create a custom one off charge where you choose price and currency (not connected to a Stripe Product)


Creating Refunds:

Creating Payments:

Create a payment that is connected to a Stripe product
Add multiple products
Add coupons and discounts
Choose payment method
Add a new payment Method
Coming Soon: Create a custom one off charge where you choose price and currency (not connected to a Stripe Product)
Coming Mid 2023: Schedule a payment to process in the future

Creating Refunds:

Refund Payment
Choose amount for refund (full or partial refund)
Add a note to the refund
Select refund reason
Zaybra's long list of actions in HubSpot is often a concern as Admins usually do now want every HubSpot user to be able to create transactions, refunds, pause subscriptions, etc. Thankfully Zaybra allows you to limit who can access these actions in HubSpot.
Other honorable mentions:
One thing DepositFix does well is allowing users to seamlessly create and embed payment pages. Since DepositFix utilizes HubSpot forms, the form is automatically on brand. While you can easily create a Stripe Payment Link with Zaybra, you don't have as much control over the branding on Stripe Payment Links.
Zaybra does come with a Custom HubSpot Quote with a Stripe payment module embedded directly on the quote. This payment module also supports multiple payment methods such as ACH, BACS, Google Pay, and more. Meaning a simplified quote-to-cash process and for both your reps and your customers.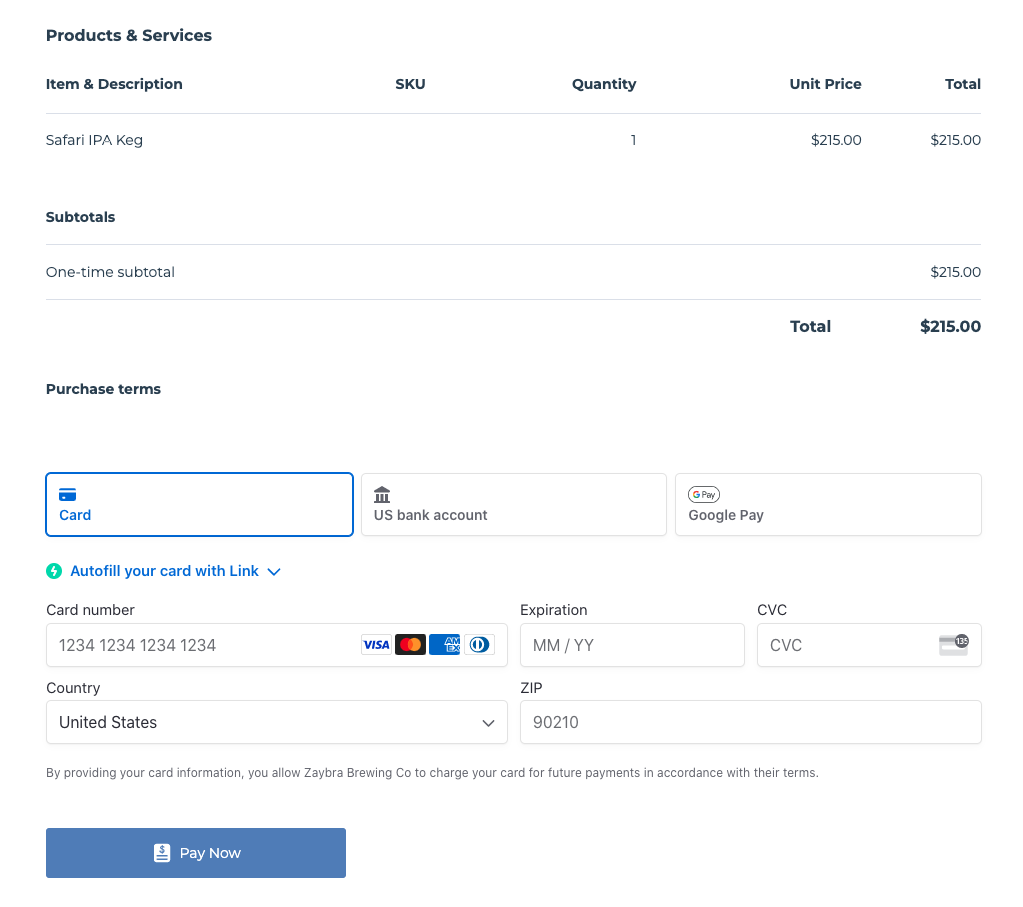 Conclusion
Deposit fix is great for creating a custom checkout page and allowing for very minimal subscription/payment management. The subscription and payment information is also very limited and not as well integrated with HubSpot.
Zaybra on the other hand focuses on allowing your marketing, revenue, sales, and service teams to automate their processes, utilize Stripe data, and create a seamless buying journey and customer experience. Zaybra's mission is to help make HubSpot a centralized platform by marrying your Stripe and HubSpot information and in the process extending the possibilities of what Stripe, HubSpot, and you can do.