Zaybra for Customer Success
Retain, Expand, and Support customers leveraging the most important data about them, right inside of HubSpot.
When a customer reaches out, Zaybra puts their purchase activity and account status front and center so you don't have to ask 21 questions. Easily see products paid for and at what price, discounts used, any recent upgrades/downgrades, and even build workflows to automate proactive outreach.
Serving your clients has never been easier with Zaybra bringing Stripe revenue data to your HubSpot CRM.



Crystal ball visibility to transform every touchpoint.
Full service is the only service
When account requests come in, there's no time to bother the Finance team about payments or statuses. Everything you need to know about an account is readily available in the sidebar. Zaybra syncs everything from Stripe including subscription statuses, every transaction, product purchases, and more. Not only is the data available, the ability to transact is also within reach.
Edit subscriptions, issue cancellations, or refund any amount
Don your sales hat and take payments for upsells/cross sells
Resend recent invoices or payment links
Relay all billing related information such as upcoming billing dates or past charges
Automation galore to scale your service bandwidth
Zaybra reveals huge opportunities to expand your client touchpoints via Stripe data. Use any property to trigger workflows, or even actions taken in Stripe such as subscription creation or new transactions can power emails, alerts, or whatever else your business needs to delight.

Proactive outreach based on subscription status
Manually doing sweeps of account health and missing revenue can be eliminated with a clever workflow triggered from missed/failed payments. Zaybra puts retention on autopilot.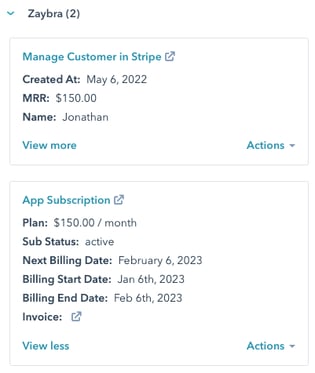 Trigger product-based onboarding flows to increase adoption
Send the right messages to customers directly from Marketing Hub by leveraging the Product fields on Subscriptions. Segment your users by what products they have and add to lists to enhance your initial interactions.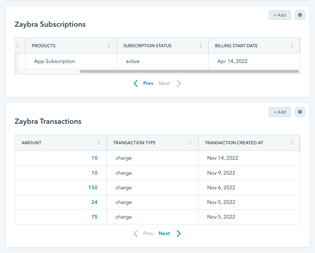 Celebrate new relationships and milestones
Since you have every transaction right in HubSpot, you can send personalized appreciation emails after x months of subscription or when a Company has a certain number of users. Happiness delivered automatically.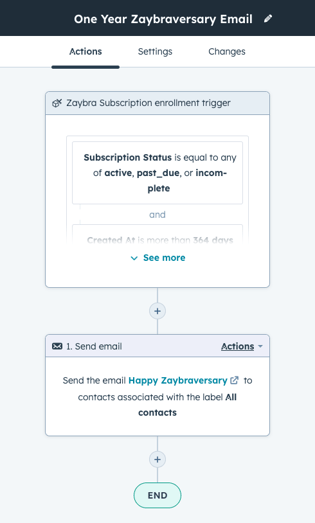 Discover and analyze unlikely support correlations
When you marry revenue and product data with support tickets, you can unveil a treasure trove of actionable insights. Are people with a certain product putting in the most support tickets? Are you routing your highest paying customers or most loyal subscribers to the best support agents? By way of HubSpot associations, Stripe subscription data can enhance every aspect of your client experience.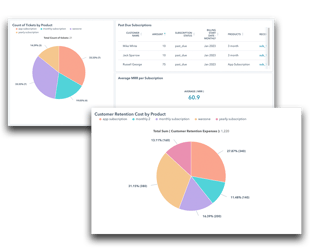 Connect your Customer Success people with our people. Schedule a demo now.