Zaybra for Education
See, report, and manage everything revenue with your coaching clients.
Coaches and content creators have plenty to do besides continually check on client payments, adjusting billing methods, and exporting spreadsheets of subscriptions.
Zaybra brings your revenue data directly into HubSpot from Stripe, opening the doors to revealing reports and a streamlined process for payment collection.



Let your subscription data drive audience growth...
See transaction data directly on the Contact
Your sales reps and marketing team no longer have to have Stripe open in a new tab to research the payment history of a customer (if they even get access to Stripe). Every subscription and transaction of said subscription is tucked nicely into the sidebar of every Contact and Company revealing their current products, price paid, and everything else related to their account. Yes, historical transaction and subscription data gets brought over upon install!
The ease of account management
Create Stripe transactions/subscriptions in the CRM
If a prospect call is going well, there's no need to get anyone else involved. You can start subscriptions or take any payment directly in the CRM to kickstart a client. Send Stripe hosted invoices
Membership management made simple (CRUD)
Anyone on your team can easily manage payment and subscriptions on the Contact. Easily refund payments, cancel subscriptions, or even add upgrades with no Stripe credentials needed. Account managers can truly manage the full aspects of the account with Zaybra and HubSpot.
Automate your most critical tasks

Create payment links on the fly
Running a webinar and everyone has their wallets open? Anyone in your Hubspot CRM can now only with few clicks generate a payment link for any Stripe product on the fly. This can be done directly from the Contact record.

Manage course access
Your provisioning of content and access just got easier with Subscription statuses brought over from Stripe. If a Subscription is canceled or defaults in payment, leverage a Workflow to remove their content or even use it to start a membership.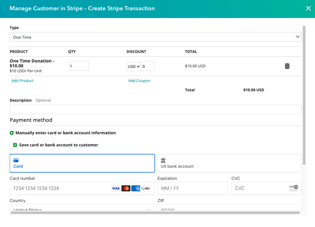 Let clients pay how they want
Accept dozens of payment methods to create your content subscriptions. Our custom Zaybra quote template allows for credit cards, ACH, Google and Apple Pay, and more. If your Stripe account has it, we can make it possible to accept that method from your clients.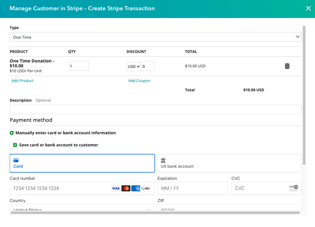 Trigger touchpoints from Stripe
Keeping the relationship strong is crucial for retaining coaching clients. Stripe actions such as new subscriptions, transactions, and failed payments can be used to trigger HubSpot Workflows that send emails, alert reps, or even create new deals.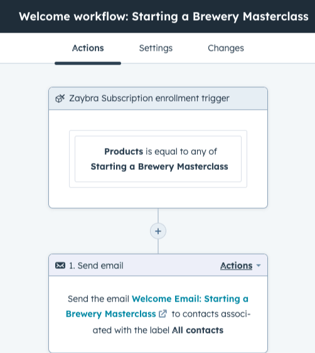 The reporting your accounting team has been begging for.
How many clients came into the door this month that paid full price on the newest product? Did you meet your upgrade quota this month? What did churn look like compared to this time last year? All of your payments and revenue data power ridiculous dashboards in HubSpot to have your team making data-backed decisions.
Connect your people with our people. Schedule a demo now.